The impact of human errors in the pharmaceutical industry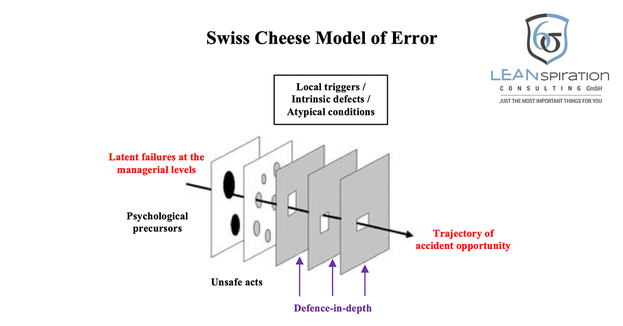 The "Swiss cheese model" assumes that a hazard can only result in an accident or an undesirable event if the intervening "safety barriers" have gaps.
These arise when human or technical precautions such as alarms fail.
These gaps must then be due to special circumstances exactly in an "axis". These are caused by active and latent failure, influenced by contributing factors and are also "dynamic", that means they open, close or shift over time.
"Active failure is an insecure act, error and offense committed by those who work at the" sharp end "of the system - it is the people at the human-system interface whose actions can and do have immediate effects."
"Latent failure is due to decisions made at higher levels of an organization, and its detrimental effects may not be apparent for a long time, and they only become visible when they interact with local trigger factors and break the system's security barriers."
Latent failure, such as management's wrong decisions, can trigger or contribute to active failure. However, psychological forerunners such as the employee's personal problems (which lead to a lack of concentration), local triggers, and atypical conditions such as cold spells that cause the full waiting room can contribute to active failure.
As a conclusion of the error theory, it can be stated that the emergence of an undesirable event or accident almost always has many causes at different levels of the organization, which are additionally influenced by factors outside the organization. Not only in large organizations such as clinics, but also in the individual doctor's office, it is worthwhile to analyze latent security problems, the functioning of barriers and the circumstances contributing indirectly to the occurrence of an error in order to increase security.
The absurdity is that as technology advances, more and more human error becomes visible, especially when it comes to the manufacturing process. It is estimated that the production sites generate on average about 1000 deviations per year.
While this is due to various factors like:
• the nature of the production process
• the number of new processes over different time periods
• the size of the production plan
• the number of product changes
There are still millions of pharmaceutical deviations around the world that are due to "human error".
What is "human error"? How can it be defined in the context of the pharmaceutical industry? Some claim that human error is "an action performed by a human being other than expected." Another definition adds that human error is "any human action or lack of action that exceeds a system's tolerance." These qualifications and awareness Industry is still inadequate to recognize and treat human errors.
The common misconception is that bad or lack of training is the main cause of human error. However, more detailed studies show that this is responsible for only about 10 percent of human error. Another problem that arises when human error is attributed to investigation is the atmosphere in which guilt and anxiety are generated. From the perspective of guilt, any interaction between employees and management is fraught with trust issues and further failure. This, in turn, leads to ignorance of systemic weaknesses that ultimately lead to more errors.
Considering that we can only do so much to control human behavior, there are some areas that can definitely be worked on.
Our first assessment area should be the work environment. Systems such as management processes, documentation, risk and project management are important areas where a solid foundation for minimizing errors can be created. Workspaces must be designed taking into account human capabilities. Factors such as temperature control, layout, housekeeping and surveillance can have a positive or negative impact on human behavior.
Next on the list is the training. Pre-employment and workplace training must be regular and intensive. Critical tasks and activities need to be monitored and monitored by a number of people, not just the responsibility of a few. The management has to be active in real time and does not just have to deal with office work. A clear plan of action must be shared with employees on a daily basis to improve communication and impress GMPs and acceptable codes of conduct. Transform the role of coaches from a tactical focus to a business focus, where more emphasis is placed on improving performance than pure skill training.
Creating a cultural change is another important step in dealing with human error. Changing culture to a culture that focuses on improving reliability and consistency rather than guilt and error automatically creates a positive working environment. This subtle change of perspective can help educate people about human performance and risk management. New tools and techniques for understanding human errors can then be implemented. An open work culture that promotes transparency rather than fear can help to identify the underlying causes and trends of human error. Prevention can soon become the norm and not the exception.
Finally, with the help of effective investigative methods and the expertise of internal and external specialists, a thorough root cause analysis can be performed for each study. Once the true cause of these mistakes is discovered, a process learned from the lesson needs to be disseminated to the workforce. This implementation of this learning throughout the network should be compelling to make a real and lasting difference.
We humans do not work in a vacuum. Behaviors are influenced by both external and internal variables. By controlling these issues, we may be able to open up new opportunities that have not yet been considered. Prevention is the key. In this way, we will not only be more productive, but also fair to those who work with the intention of doing good work, but ultimately become victims of weak systems.